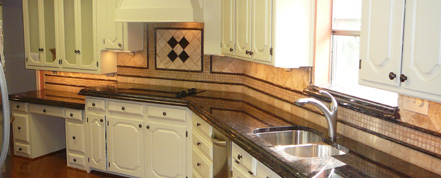 With so many tiles out there, it can be confusing! Finding tile that reflects your home's and your family's style is key.

Keep a Design Book - One of the first things you should do is grab a notebook and jot down what you like and DON'T like about your existing backsplash. At first, it may seem strange to create a design book, but when you visit your local tile or floor covering store, having a design book will really help guide your conversation and keep you on track.

To make your design book, flip through magazines and tear out images of tile or whole rooms that you like. If there is a style or color family you do not like, be sure to write it down to remind you to bring it up when you talk with a tile professional.

The more basic parameters or basic boundaries that you give to the sales person -- the better he or she can help narrow down the selection and zero in on the right design for your backsplash tile.

Keep an open mind. Don't limit yourself by having too many specifics, unless you're having a tile custom made for your backsplash (which is rare because it can be costly).

Here is a good example of directions that you can give a designer if you have a design book: "Here are some photos of kitchens that appeal to us. We want to stick with natural colors with some kind of an accent that goes with our kitchen (picture of kitchen), and we don't want the tile to have too much yellow or pink." That kind of specific guidance helps a designer get you the perfect backsplash tile for your kitchen.