FloorPartners flooring products and services testimonials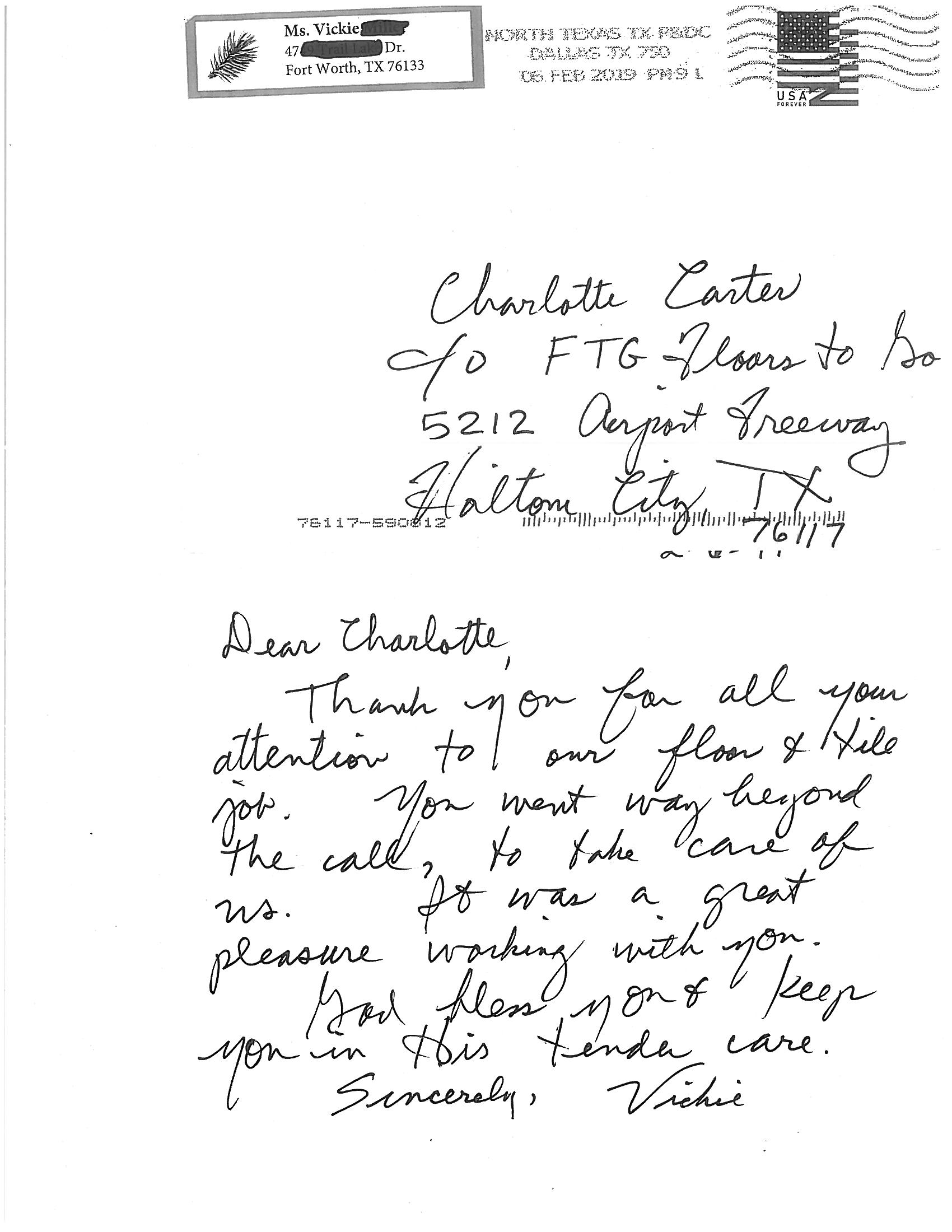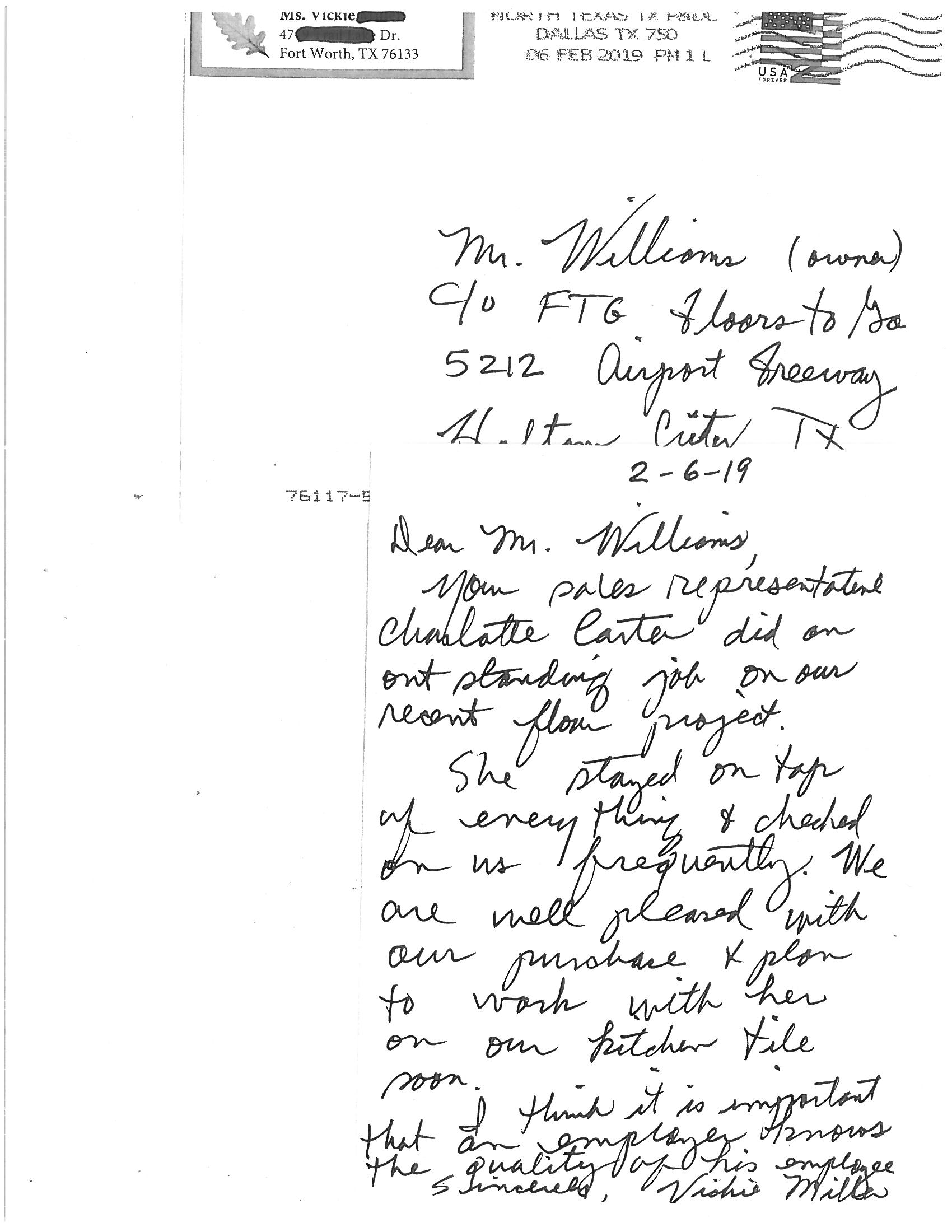 "Very very knowledgeable. I highly recommend Floors to Go for anyone that needs hardwood. Ask for Jesse hes super friendly. Everyone that works there will go out of there way to make you feel comfortable. I knew exactly what I needed when I left there." - Ryan carver
"I was not able to order from them because of material/time constraints. But I will definitely be back to order my kitchen tile. The amount of time they took to help me and the service I received was exceptional. I make my living servicing my clients and Maria & Michelle were top notch." - Alicia Culwell
"After working with 7-8 other tile and floor covering places in both Dallas and Fort Worth we found Floors to Go. What an incredible find. Great quality, selection and advice. Wonderful people going above and beyond to help. Even after a problem took place by an installer we chose several hours away they again came to the rescue with advice and a different selection when we decided we needed to make a change after not paying attention to their earlier warning. No I told you so just a desire to help us get our desired results. They have helped us on projects in 4 different rooms all with different needs. You will not be sorry choosing Floors to Go! Alice and Theril Williams, you rock!" - Esther Johnson
"Michael took very good care of us. My floors look beautiful! We have had them for almost 6 months with kids spilling everywhere plus roller skates, scooters and dragging chairs and they still look brand new. I am a very happy customer!" - Jillian Maughan
"Looking for flooring......then look no more! I highly recommend Floors To Go. This company fit the bill for me in every way and I am very picky! I learned about them from listening to the owner Theril and colleague Dana on the radio 570am talking about the different flooring products on the market, etc. I was not ready to upgrade but they peaked my interest so I decided to visit the showroom - the rest is history. I now have beautiful hardwood floors installed in the majority of home and great carpet in bedrooms. From the expertise by the owner, the experienced consultation of salesman, Jesse R. who guided me on the selection of products and pricing, to the knowledgeable installers that were experts in their craft - I am 100% pleased. Complete professionalism was displayed during the entire process. I will definitely use these guys again! Thanks to the entire staff of this good company!" - Jerri McKennon
"Floors To Go has been an absolute pleasure to work with! All of the employees are extremely knowledgeable and friendly and make the selection process so much easier. I recommend them to all of my friends and family. If you are looking for great flooring and affordable prices, Floors To Go is the place to use!" - Rachael Dominguez
"I'd like to take a moment on how pleased I am with the Floors To Go Team, I find Mr. Norris and staff to be professional, extremely knowledgeable, ethical, transparent and the execute the task on my rental homes very quickly. Providing quality workmanship and having quick turn times is critical and this company provides just that. Thank you Mr. Norris and the Floors To Go Team!!" - Johnathan Beaman
"Timothy and the team at Floors to Go on Airport Freeway in Haltom City are kind, professional, knowledgeable and helpful in every way. They were a tremendous blessing as I helped my father select new vinyl flooring for his home. I highly recommend them." - Catie B.
"Helpful, lots of stock" - Steve Cocanower
"Great service, very knowledgeable, tons of everything tile, wood, carpet etc. Awesome experience." - Maria Zamores
"I appreciated your patience when I was trying to decide which color was best. I am very satisfied with the flooring." – Homeowner, Bedford, TX
"Kristen, you go above and beyond! You are awesome!" – Brandon Bailey, Owner, Family Christian Doors, North Richland Hills (NRH), TX
"Everyone was polite, courteous, well dressed, prompt and able to answer all questions." – Homeowner, Grapevine, TX
"Great experience - Theril was very helpful & enjoyable to work with. It was nice to have a person that I trusted. I really was happy with it [experience]!!" - Cheryl Staley, Personal Concierge at Vaquero Club, Haslet, TX
"Floor Partners did an excellent job of installing carpet in our home and when I needed it repaired, they were very prompt to get the work I needed done." – Homeowner, Fort Worth, TX
"It was a wonderful experience!" – Yvonne Powers, Keller, TX
"[Theril] was very accommodating and quickly resolved the issues that we had. The quality of the carpet purchased was excellent…" – Doris Fairfield, Ft. Worth, TX
"Floor Partners is a wonderful business, we felt welcome to take our time to make decisions, never rushed. Crystal was wonderful. I believe we got the best possible price for the materials that we needed to complete our home. Thank you! We absolutely love Crystal!!!! She was friendly and helpful. We left feeling like friends, not just customers. Can't wait to work with her again!" – Marla and Lex Taylor, Bedford, TX
"We've done projects for the last two years; we've always gone back to Floor Partners because of each experience being ideal. With Floor Partners I can trust the people that they send to my home. The licensed designers at Floor Partners are a pleasure to work with; it's fun when a designer gets excited with you. They tell you they're going to do something they're going to do it. There's an integrity about them that their word is their word and it's good. They're just the perfect floor company and we would not go to another one. We would always choose Floor Partners." – Susan Lawshe, Hurst, TX
"Wonderful experience!" – Gale Horn, Keller, Texas
"Very happy with all aspects of the transactions!" – Homeowner, Bedford, Texas
"Quality products, quality service!" – Mark Mulligan, Hurst, Texas
"Beautiful work! Thanks Kristen for all your help!" – Diana Markham, North Richland Hills, Texas
"We love the finished product!" – Richard and Ingrid Bryan, Ft. Worth, Texas
"Excellent service and quality!" – Wayne Hester, Bedford, Texas
"
[Kristen] brought several samples to our home and we chose from one of them instead of what we had tried to pick when we were in the store. They were very helpful, prompt and the crew did an excellent job and cleaned up everything.
" – Max and Linda Ficken, North Richland Hills, TX
Flooring Gallery from the DFW Metroplex
Gallery of a few flooring projects. Feel free to browse!