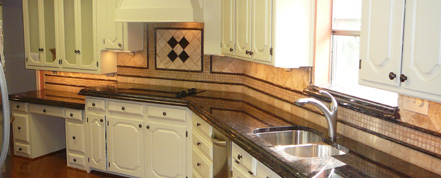 With so many tiles out there, it can be confusing! Finding tile that reflects your home's and your family's style is key.

Keep a Design Book - One of the first things you should do is grab a notebook and jot down what you like and DON'T like about your existing backsplash. At first, it may seem strange to create a design book, but when you visit your local tile or floor covering store, having a design book will really help guide your conversation and keep you on track.

To make your design book, flip through magazines and tear out images of tile or whole rooms that you like. If there is a style or color family you do not like, be sure to write it down to remind you to bring it up when you talk with a tile professional.

The more basic parameters or basic boundaries that you give to the sales person -- the better he or she can help narrow down the selection and zero in on the right design for your backsplash tile.

Keep an open mind. Don't limit yourself by having too many specifics, unless you're having a tile custom made for your backsplash (which is rare because it can be costly).

Here is a good example of directions that you can give a designer if you have a design book: "Here are some photos of kitchens that appeal to us. We want to stick with natural colors with some kind of an accent that goes with our kitchen (picture of kitchen), and we don't want the tile to have too much yellow or pink." That kind of specific guidance helps a designer get you the perfect backsplash tile for your kitchen.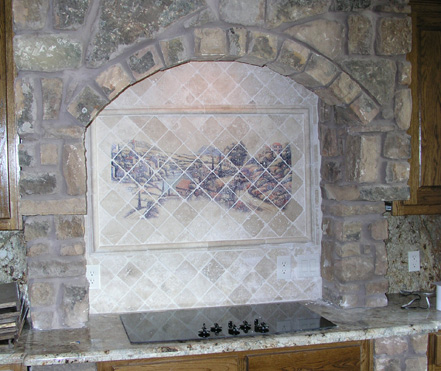 Flat or Funky? - Adding texture to a kitchen can give it some extra life. Your backsplash can reveal your personality. Try to see this as an opportunity to put your unique twist on your home. Get funky and view your backsplash tile as a panoramic art piece that will enliven your kitchen's decor.

When choosing between flat or funky backsplashes, consider who cooks and who cleans up! If preparing your nightly dinner includes lots of sauces hitting your backsplash, you may want to reconsider having extra bumpy and porous (and easily stained) tumbled stone tile above the cooktop. Instead, pick a flat tile with more flair in the movement or mix of colors that will be much easier to clean.

Is there a standard backsplash price? - No two kitchens or backsplashes are alike. There is no "standard price for a backsplash" since tiles vary in quality, whether they are ceramic, porcelain or stone. Higher quality tile costs more.

In addition, kitchen layouts differ in every house, so you can easily get quite a range for quotes for the same job depending upon the quality of the material. The final backsplash price also factors in the difficulty to install your backsplash, which depends on your kitchen's layout.

As a rule of thumb, a backsplash is more than twice as expensive as laying the same quality of material on a wall. Backsplashes take longer to install and are typically done by one or two people. The complexity of the design and the space available affect the time that installation will take and the cost.

Layout and Design: As Floor Partners on staff designer, I can help guide you to the best layout for your kitchen. I can pull the samples and grout selections together to give you idea of how the colors and textures look next to each other.

Every tile comes in different sizes. Stick with tiles that are smaller than a 12x12. You can also get varying shapes, such as rectangles for a subway look, fan-shaped tiles, rock-shaped tiles, circular tiles, or even very long and thin rectangular tiles in glass or stone for a unique look.

When you visit Floor Partners I will personally design a few options for your backsplash. Usually, I visit your home before I do backsplash designs so that I get an idea of the styles in your home. Then, when you arrive at the showroom, we select your ideal tiles and I work out a custom backsplash design just for you!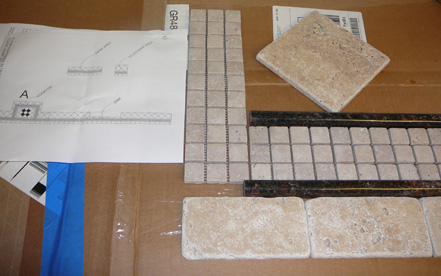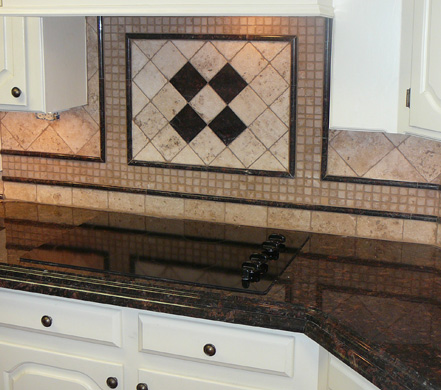 We hope this article has helped you think about the important issues in designing a backsplash.

At Floor Partners, we can help you select tile, design your backsplash, and install it for you. However, we also offer design services by the hour for do-it-yourselfers. Why not work with a professional designer to make your backsplash project a shining success!

Have fun and happy tile shopping!

Kristen Mangus is Floor Partners in-house designer. She would be delighted to help you create a backsplash that expresses your unique style. Call her at 817-735-8500 to get started.