---
Homeowners commonly come in and talk about the problems that they are having with a shower in the house. Most homeowners are not aware of the proper techniques to waterproof a shower. Sadly, the contractors they have hired have not been educated about the proper way to waterproof a shower either. This ends up costing the homeowner much more than the products would have cost to waterproof- plus the added frustration of having the shower torn out and redone.

---
Shower waterproofing is necessary because it prevents water from wicking into the building materials, which would cause the shower to fail. Some of the warning signs of a shower that has not been waterproofed could include mold at the wall-to-floor transitions, effloresence in the floor tile grout joints, tiles falling off the wall, or mold on the curb or recessed niches. Moisture trapped in dark areas breed mold and can cause health risks; it also attracts destructive insects such as termites and carpenter ants.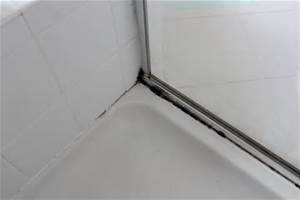 Here is an example of mold in a shower.
One of the biggest misconceptions contractors have is that the cement board or backer board is waterproof. Hardie board is waterproof in the sense that water does not hurt it, but water can still penetrate. It is likely that water will penetrate at the joint of the boards, if no other waterproofing measures have been employed. Cement board and backer board are for dimensional stability- not for waterproofing. There are several effective waterproofing methods on the market; some are complete shower waterproofing systesm while others are roll on products.


---
If you are considering a tile shower installation, make sure your installer outlines the method of waterproofing that he/she plans to use. Research the method and make sure you are comfortable with it. Floors To Go offers the materials and the knowledge you need to have a successful shower installation.
So to sum up, what we call madness is having to pay for the same shower twice. If you do it right the first time you will only have to pay once.
---