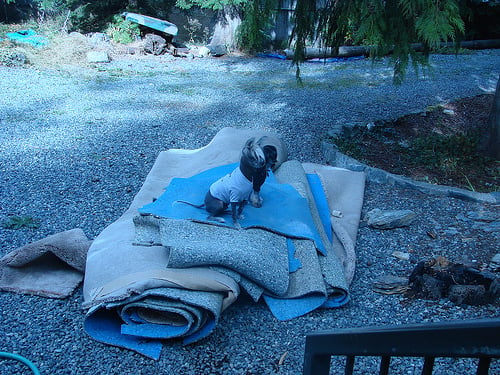 By crestedcrazy

You have enjoyed your carpet for some time now, but it is time to replace it. You could throw it out as most people do, and it will see the end of its days and have no further use. On the other hand, you could give it a brand new life. When you recycle your carpet, you put it back into use in ways that may not have occurred to you, and you're doing your part in keeping the environment green.
What Happens to Recycled Carpet?
Recycled carpet has many uses. Here are just a few of the creative things recyclers make when you recycle your carpet:
Soundproof barriers
Fiber block for flooring
Carpet cushion
Fuel
Composite lumber, plastic, concrete and asphalt
Erosion control and storm water management supplies
Leading the Movement
The campaign to reuse carpeting was originated by the Carpet America Recovery Effort, or CARE. They are a non-profit organization with a mission to increase awareness of the potential uses of used carpeting. CARE has a group of members nationwide who have locations that collect used carpet. Recycling centers are not available everywhere, yet, but they are available in Dallas and Ft. Worth and Floor Partners is one of the early adopters in carpet recycling.
If you have carpet available for reuse, all you have to do is call Floor Partners or fill out the Floor Partners Carpet Recycle Request form. You will need to provide the approximate square footage, the location of the carpet and a potential pick up time. You will then receive a quote for the pickup. In some situations, the company will pick up the carpeting for a nominal fee. But remember saving space in land fill and giving new new life to a used product is our goal.
Doing Your Part
Bottles, plastic bags and used carpeting fill the landfills. These things do not decompose easily. When you recycle your carpet, you are doing everyone and the planet a favor by going green. All it takes is a phone call to start the process.