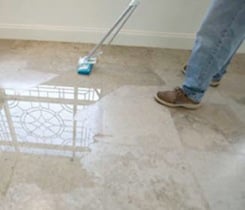 Photo courtesy of Custom building products
The first key to maintenance is understanding what type of product you have. When making your initial purchase understand what cleans best, how to protect it and how to regularly maintain your floor. This article will give you tips on selections before installation as well as how to clean tile and grout once you have the tile installed. If you already have tile installed, skip to the section for Cleaning.
TILE SEALERS
For a moment let's talk about tile and sealant. There are in general two kinds of sealer; the first is a penetrating sealer. Penetrating sealers can seal grout and porous tile, like stone, without changing the color of your tile. It can produce sheen or make your tile look a little shiny; this depends upon the brand that you buy but most will have some faint shine. If you want the color to be enhanced or enriched with a deeper (or more vibrant) color you can use the second kind of sealer called an enhancing sealer. This sealer is the same as the penetrating sealer but has properties to make the color stand out and stay that way; it is most common to use this sealer or sealant on real stone. To test out what your stone or unglazed tile will look like with an enhancing sealer applied, wipe the tile with a wet rag or paper towel. When the water is absorbed into the tile the color tends to darken or even become more vibrant. If you have a honed Rojo marble or travertine the color may become a brighter red and you may see the veining more, as you would see in a polished version. You can still get the softer texture of the honed stone but not the slick look of polished! A favorite brand of ours is Aquamix from Custom Building Products. They make many other tile and floor products that have become standards in installations. Another company is Miracle and has many great products, too. No warranty is the same for each product so you will need to read the label or visit the manufacturer's website for that product's warranty info. If you have sealed your tile before and need to check if you should re-seal your tile; pour a 3-4 inch circle of water onto the tile and grout. Let it sit for a few minutes and wipe dry. If there is a faint or dark circle that has remained, then your tile is now porous and can stain. Seal again at this time. Re-apply sealers at any time or for the first time, just be sure to clean your tile as much as possible before sealing or dirt will become trapped in the sealer.

TILE GROUTS
More Prevention when installing floors: Besides sealant, grout selection is important to prevent stains. There are new grouts on the market that have sealant built in along with other features. For example one product called AccuColor XT Grout, made by TEC, is highly resistant to stain, mold, mildew, wear and tear and has extreme strength to resist cracking. These non-standard grouts are vast improvements over the basic one, just keep in mind they are an upgrade and will have a higher price. Another fantastic product is Prism® SureColor® Grout, made by Custom Building Products. "Prism offers consistent color with no shading regardless of tile type, temperature or humidity. And it will not effloresce. Prism's dense joints provide more resistance to stains than standard cement grouts and cures quickly developing high early strength." Prism is also "32% lighter than other grouts, providing excellent handling characteristics and a smooth, creamy texture that accommodates grout joints as narrow as 1/16" (1.6 mm)." These are still affordable solutions when looking to have easy maintenance and to extend the life of your floor. Other grouts with a commercial clean-ability are epoxy and can be used in homes as well for even longer lasting prevention of stains and chemical attacks.

CLEANING TILE
When a client asks me about cleaning their floors we talk simply. The key to maintenance is cleaning up after spills as soon as they happen. This is the rule for any floor covering as well as your own clothing. Simply stated if you let something sit it most likely will stain, mold, or mildew. Get to spills fast and always use a white cleaning pad. This white pad could be a wash cloth, towel or scrubby made for floors. Do NOT use any cleaning scrubber that is colored or has metal such as a yellow, green, blue or metal scrubber. These can actually discolor and harm your floor further. First wipe or mop up excess liquid, then clean with a ph neutral cleaner. Be careful about using harsh chemicals to get out tough spots or you may damage your tile. For unusual stains like getting rid of new grout haze (the cloudy dust left after tile is installed when dry), try Sulfamic Acid Crystals. This is a mild acid cleaner for tile. "Sulfamic Acid Cleaner removes sanded grout & mortar residue, joint cement, lime & hard water deposits, efflorescence, rust and other dirt and grime." – says Miracle, a maker of Sulfamic Acid. It comes in a bucket of crystals that is added to water and mopped on. It is very easy to use and can be picked up at a local hardware store or ordered at our store. For harder stains or an overall deep cleaning, consult a professional cleaner. We recommend locally United Carpet Cleaning Systems. Their site also has a handy carpet cleaning spot guide, too!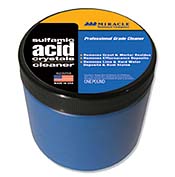 Miracle, a maker of Sulfamic Acid


MAINTAIN TILE
Keep floors fresh with weekly maintenance by regularly sweeping and then moping with a ph neutral cleaner. There are many floor care systems out there. Make sure they are formulated for your floor tile type (ceramic, porcelain or stone). We like the Bona floor care system. We sell the Professional strength at our store but you can get regular strength at a number of major retailers, including big box bath stores. The "Green" story with these mops is that the pads are made washable so you are not throwing away and buying more pads. I recommend owning at least 3 pads, one on the mop, one ready to go and one in the washer. Although some of their pads have color, they are formulated and designed to clean floors, unlike everyday toss-away sponges.

For more information on products listed please click on the links in the article to read more.

Kristen Mangus is Floor Partners in-house designer. She would be delighted to help you floor that expresses your unique style. Call her or any team member at Floor Partners 817-735-8500 to get started.