You're enjoying the pitter patter sound of rain outside your window. That is until a family member yells "It's RAINING inside the house!" The roof is leaking, and now your living room is flooded.
Or, maybe you have come home to find that an overflowing washer, a leaking tub or a busted hot water heater has soaked your carpets.
Either way, it's a serious mess!
Wet Carpet Emergency
Don't panic, but don't delay. Get straight to work on the wet carpet. You need to get the water out of the carpet quickly for several reasons.
Besides preventing mildew, drying the carpet will help preserve it. The longer the carpet is wet, the faster it will go bad. Wet carpet glue starts to break down and, as it does, the two backings that keep your carpet looking like a carpet (and not like a bunch of yarn) will start to separate.
The big word here is de-lamination. Simply put, carpet has two backs sandwiching the carpet into a large fabric (it's a textile) on your floor. When the glue breaks down or gets soggy it's easier to peel them apart like a fresh grilled cheese sandwich.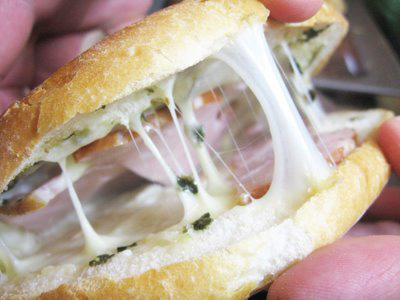 Photo Credit:
Lori - Burp! Where Food Happens
If it doesn't dry enough you can get bubbles or wrinkles in the carpet which is evidence those places have come apart, or separated, from the backing. In a worse case the tufts of the carpet can be pulled out like if you were pulling grass out of a soggy lawn because there is nothing keeping it held in anymore.
Our office recommends if you have water on your carpet get it out as quick as you can, pull back the carpet and get floor dryers on it. The pad may be trashed but if you can get the carpet dry you could rescue it! (TIP: Start at the corner of a room after moving the furniture, to pull back. Use a pair of pliers and wear work gloves).
Call an Emergency Water Professional to get the water out or pull it out with a wet/dry vacuum. Move the furniture off the wet carpet so it doesn't wick up the woods or have the emergency crew do that. While you wait on them start moving personal effects and small electronics out of the room. The carpet should be pulled back off the tack strips to get air to it after the water has been sucked up. To SAVE YOUR CARPET do NOT let them cut the carpet! I cannot tell you how many times I've been to a client's home and we cannot seam the old carpet back together nicely or at all because a loop Berber carpet was cut in a wavy line away from the walls. Repairing the carpet in this way is noticeable and not pretty. If the carpet is pulled back and gets fully dry we can lay down new pad and re-stretch the carpet back into place.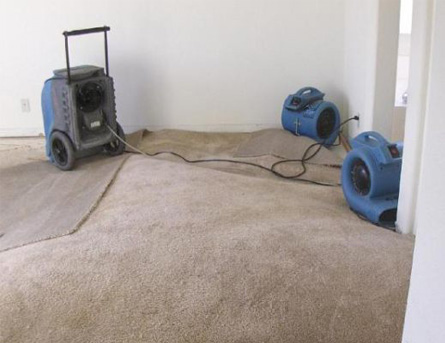 Photo Credit:
QuickDry.com
Get the water out
Pull back the carpet & get dryers on it
Toss the pad or try to dry it out (it's like a sponge)
If you have more extensive damage to your home's walls, call your insurance company or your landlord's to get the ball rolling on estimating the damage.
The insurance adjusters will look at your carpets and at any other damage. If you have gotten to the carpet quickly enough, we can come out and install new pad and re-stretch the old carpet.
Once the carpet has been reinstalled, you should wait at least a week and then have your carpet professionally cleaned by a company that uses a truck-mounted hot water extraction unit. This cleaning method is the one recommended by carpet manufacturers to extend the life of your carpets.
We hope this article has helped you and would be glad to refer you to professional carpet cleaning or water damage repair professionals in the DFW area. Please give us a call. Thank you!
Kristen Mangus is Floor Partners' in-house designer. For help, call her or any other member of the Floor Partners' team at 817-735-8500.